The parade is produced and organized by a nonprofit, all-volunteer board and funded by community groups, businesses and individuals. Without their support, this 57-year tradition would not be possible.
By sponsoring the parade, you are becoming part of something truly amazing. Click the link below if you are ready to sponsor the oldest and largest parade in Texas. If you have questions, contact us at 817-330-9872  or  info@arlington4th.org .
NOTE: If you sponsored last year's parade, you must register on the application again.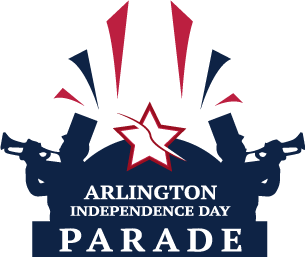 Red
$250
Benefits for Red include the following:
Sponsor's name listed on website from sponsorship outset through 12/31/2023
White
$500
Benefits for White include all of the benefits for Red PLUS:
Sponsor featured in parade's social media campaign
"Proud Sponsor of Arlington Independence Day Parade" certificate to display at your business or organization
Parade entry fee waved
Blue
$1000
Benefits for Blue include all of the benefits for White PLUS
Sponsor's logo on our website linking to your website
Sponsor's logo on "Presented by…" banner carried in parade if sponsorship received by 6/9/2023
Invitation to breakfast with Parade dignitaries on parade day
Permission to hand out promo items before parade
Sponsor's logo featured on banner at each Announcer stand
Sponsor's logo on back of official parade t-shirt if sponsorship received by 6/9/2023
Two official parade tee shirts.
Gold
$2000+
Benefits for Gold include all of the benefits for Blue Plus:
Sponsor's name announced throughout parade
Sponsor's logo included in all parade advertising
To become a sponsor of the 59th Arlington Independence Day Parade or for more info, please contact us at sponsorship@arlington4th.org or call 817-330-9872